More cash for your trade-in with less effort than a carrier buyback program.
Trade In Your T-Mobile Motorola for Cash
?
How do I know my cell phone model?
To identify your phone, you can check the model number on the sticker under the battery or look in the phone's Settings app.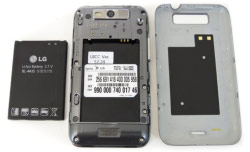 Model info can usually be found under your phone's battery.
Select the Motorola model you want to sell
Get More In Cash than T-Mobile Buyback Offers
Sell your used smartphone for cash at uSell.com. With uSell's smartphone trade-in, you can get a cash offer for your phone in 30 seconds or less.
T-Mobile Trade-in requires a new contract purchase to trade in your phone for bill credits or a giftcard, and it can take T-Mobile up to 2-3 billing cycles to issue your credits. Let uSell pay you cash instantly with no strings attached instead.
How to Trade In Your T-Mobile Motorola
Start by selecting your model of T-Mobile Motorola from the list above. If your phone is from a different carrier, go here to get an offer for it. Lock in a top offer for your device and we'll keep your price good for 30 days. Then send in your phone for free using our postage-paid shipping kit. After you send in your smartphone, we will inspect your device and, as long as it matches your description, we issue you payment via check or PayPal.